Chicago producer Young Chop recently stepped forward to voice his opinion on close pal Chief Keef receiving a pink slip from iconic music label Interscope Records.
In Chop's opinion, Chief's records were chart-toppers during his run on Interscope.
"What's so funny about it, his album sold what the f*ck its requirements were supposed to be. So how did they drop him? He sold 200,000. He recouped. I don't know what the f*ck going on over there. His singles did good. Every single he put out did good and topped charts." (Forbez DVD)
Check out Young Chop's interview right here…
Chief resorted to his Twitter page to confirm the headline-generating buzz last month.
Buzz about Keef possibly being released from Interscope bubbled online in mid-October.
Update: Keef posted a text conversation with Chicago rapper Lucki Eck$ to Twitter that if accurate, reveal that he's officially no longer on Interscope and hasn't been for a week now. 19-year-old Keith "Chief Keef" Cozart has been dropped from his Interscope Records deal after clashes with label brass about future releases and a string of high-profile incidents, ranging from lawsuits to drug offenses. (Red Eye Chicago)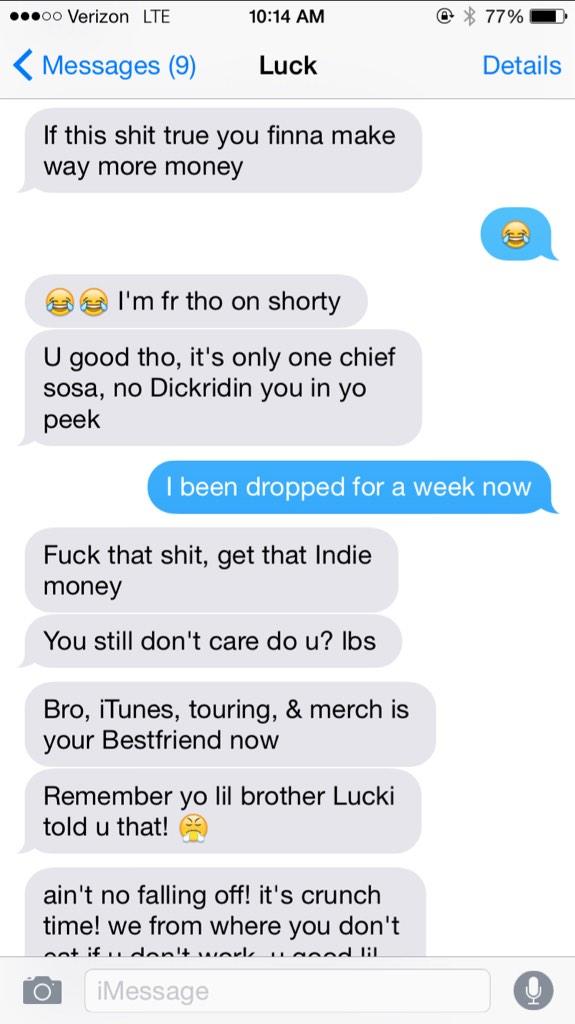 Last year, G-Unit head 50 Cent said he tried to steer Keef onto the right path but his words fell on deaf ears.
"The Chief Keef project is the 50 Cent project. It's the same project," 50 Cent told DJ Jenny Boom Boom regarding the similarities between himself and Keef, whose growing rap sheet threatens to outstrip his music. "He's completely influenced by his environment, but that's the nightmare," 50 Cent continued, comparing Keef's legal battles with ones he fought earlier in his own career. "I actually was attracted to the Chief Keef thing because I was like, I can help him. I know what to do. He didn't listen, so I wouldn't actually offer (what was said) to the general public. To reach out to him and actually talk to him, I did that. He's a man, a young man. My son is a year younger than him. So when I'm talking to him, he don't have to take it. I'm not his father, that's his business." (Radio)