Late hip-hop icon Tupac Shakur's legacy will be remembered in the coming months thanks to an upcoming Grammy Museum exhibition.
According to reports, the "All Eyez on Me: The Writings of Tupac Shakur" exhibit will open February 2 at the Los Angeles museum.
"Tupac Shakur was one of the most original and important of all hip hop artists. His writings are both powerful and provocative," Grammy Museum Executive Director Robert Santelli said in a statement. "It is an honor to be the first music museum to acknowledge Tupac's legacy and to bring context to what was an incredible career." (Los Angeles Times)
Check out these additional details right here…
Diehard Pac fanatics will have an opportunity to see his personal, handwritten works at the museum.
The exhibit also will include Shakur's handwritten notes, lyrics and poems, along with interview and performance footage, and other outfits he wore. All these items were supplied by the Tupac Shakur estate overseen by his mother, Afeni Shakur. (Los Angeles Times)
Last year, R&B singer Chris Brown customized one of his cars with Tupac lyrics.
Breezy recently made an upgrade to his matte black Lamborghini Gallardo, calling on tattoo artist Huero to paint the lyrics to Tupac's "Lord Knows" onto the car. The paint job, which certainly does a nice job of grabbing your attention, goes from the hood of the car, all the way to the back and onto the sides, though, and maybe it's just us, but the font of the lyrics is pretty hard to read. Regardless, pretty cool of Breezy to pay tribute to 'Pac and his legacy. (TMZ)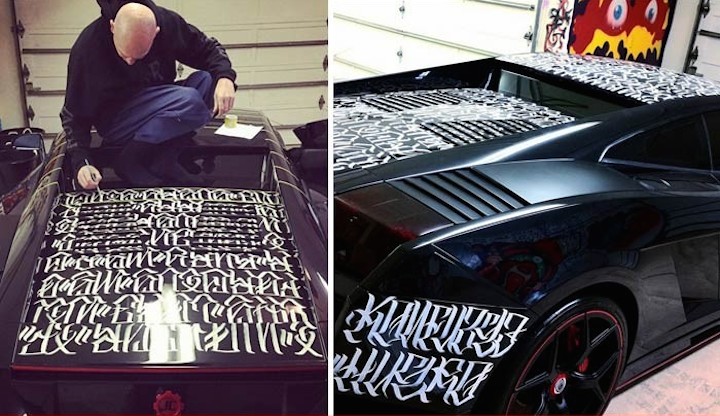 Last year, former Death Row Records owner Marion "Suge" Knight talked about his relationship to the late Shakur
"At that time, any time you got in my car, it was always old sh*t in my CD changer. Tupac would hop in my whips to go grab a broad or something. We'd be at the studio and he'd go grab the keys, hop in that mothaf*cka and drive and call back and be like "Hey, I'm in your car but why you don't got no good music?" It would be Al Green, Sam Cooke, Donny Hathaway. I'd give sh*t to everybody [and] because everybody heard it so much, everybody took took a liking to it, and adopted it." (Rolling Stone)