Television icon Bill Cosby's wife Camille O. Cosby has come forward to speak out on her husband being accused of sexual assault by multiple women.
Camille finally broke her silence on the widespread drama Monday (December 15).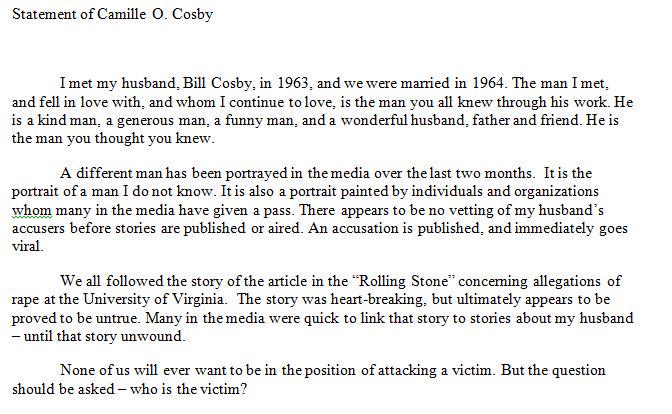 Check out what Bill recently said right here…
Mr. Cosby singled out the black media and coverage of the sex scandals Friday (December 12).
Instead, Cosby, 77, said that the African-American media — for which this reporter often writes — should be impartial. "Let me say this. I only expect the black media to uphold the standards of excellence in journalism and when you do that you have to go in with a neutral mind," Cosby said. (Page Six)
In an open piece for Vanity Fair, famous model Beverly Johnson recalled drinking a compromised cappuccino from Cosby decades ago.
Now let me explain this: I was a top model during the 70s, a period when drugs flowed at parties and photo shoots like bottled water at a health spa. I'd had my fun and experimented with my fair share of mood enhancers. I knew by the second sip of the drink Cosby had given me that I'd been drugged—and drugged good. (Vanity Fair)
Approached by paparazzi, rap veteran CeeLo Green recently spoke out in defense of Cosby and the negative press he had received over the past few weeks.
"He hadn't said anything, which is also, to some, an admission of guilt as well. It doesn't seem fair anyway you slice it. … I'm saying that can be the perception and it is the perception of many simply because he hadn't made a formal statement defending himself. But you can't defend yourself in that capacity. You just have to let facts be facts and so on and so forth. The facts have to speak the loudest. With that being said, none of it seems fair. And of course to any victim in that situation, it's highly unfair. Extremely unfair. It's not for me to really judge it. I definitely can't judge it but it's just unfortunate because he's so beloved to so many people." (TMZ)