Television icon Bill Cosby's daughter, Evin Cosby, has come forward to speak out on the widespread sexual assault accusations targeted at her father.
Miss Cosby issued a statement this week to defend her dad.
"He is the FATHER you thought you knew. The Cosby Show was my today's tv reality show. Thank you. That's all I would like to say :)" (Access Hollywood)
Check out what Cosby's wife said this week…
Cosby's wife, Camille, finally broke her silence on the widespread drama Monday (December 15).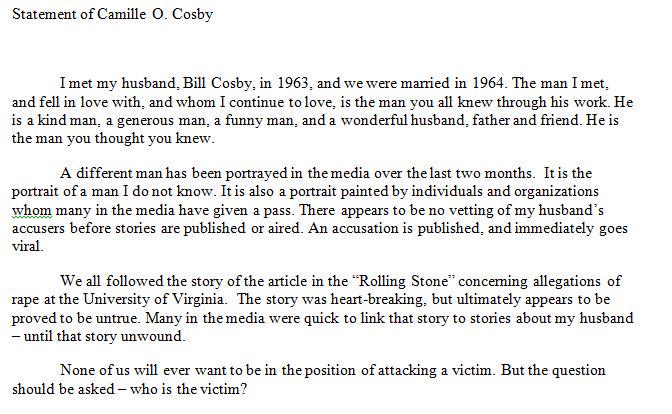 Mr. Cosby singled out the black media and coverage of the sex scandals last Friday (December 12).
Instead, Cosby, 77, said that the African-American media — for which this reporter often writes — should be impartial. "Let me say this. I only expect the black media to uphold the standards of excellence in journalism and when you do that you have to go in with a neutral mind," Cosby said. (Page Six)
In an open piece for Vanity Fair, famous model Beverly Johnson recalled drinking a compromised cappuccino from Cosby decades ago.
Now let me explain this: I was a top model during the 70s, a period when drugs flowed at parties and photo shoots like bottled water at a health spa. I'd had my fun and experimented with my fair share of mood enhancers. I knew by the second sip of the drink Cosby had given me that I'd been drugged—and drugged good. (Vanity Fair)