Hollywood icon Bill Cosby is making headlines this week after making a controversial comment to a woman last night (January 8) during a Canada show amid multiple sexual assault accusations.
According to reports, Cosby joked about his current sexual assault situation to a concertgoer.
A woman who got up from one of the front rows and walked past the stage was asked by Cosby where she was going. When she answered that she was going to the lobby to grab a drink, Cosby responded: "You have to be careful about drinking around me." The remark was met with loud applause. A few minutes later a heckler yelled at Cosby that he was a rapist. Cosby stood up as the crowd started to boo the man and asked them not to respond. "No, no, stop," he said, waving his hands. (The Guardian)
Check out this statement Cosby issued right here…
Cosby issued a statement over his show's heckler.
"Dear fans: one outburst but over 2,600 loyal, patient and courageous fans enjoyed the most wonderful medicine that exist for humankind. Laughter. I thank you, the theatre staff (Budweiser Gardens), the event organisers and the London, ON community for your continued honour and support. I'm far from finished," Cosby said in the statement issued by his publicist following the show. (Statement)
Recently, the actor's daughter Evin Cosby issued a statement to defend her dad.
"He is the FATHER you thought you knew. The Cosby Show was my today's tv reality show. Thank you. That's all I would like to say :)" (Access Hollywood)
Cosby's wife, Camille, finally broke her silence on the widespread drama in mid-December.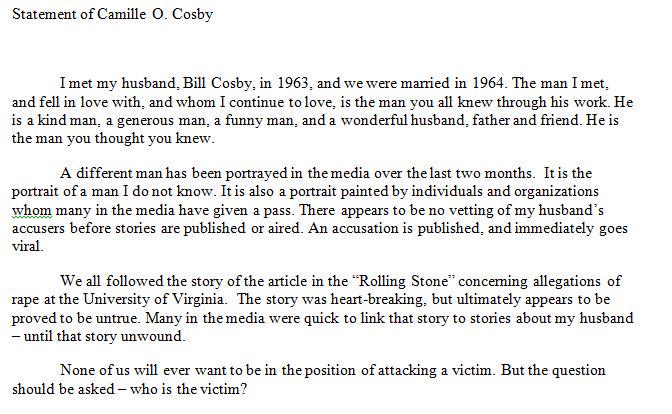 Mr. Cosby singled out the black media and coverage of the sex scandals a few weeks ago.
Instead, Cosby, 77, said that the African-American media — for which this reporter often writes — should be impartial. "Let me say this. I only expect the black media to uphold the standards of excellence in journalism and when you do that you have to go in with a neutral mind," Cosby said. (Page Six)