Hollywood icon Bill Cosby has reportedly been accused of sexually assaulting another women over 40 years ago.
According to reports, former Las Vegas dancer Katherine McKee said Cosby raped her in the early 1970's.
"He spun me around, pulled my panties down, and just took it. We were still standing at the door when he attacked me. It was so fast and so shocking and so unbelievable." (NY Daily News)
Check out what Cosby's family said amid the claims right here…
Last week, the actor's daughter Evin Cosby issued a statement this week to defend her dad.
"He is the FATHER you thought you knew. The Cosby Show was my today's tv reality show. Thank you. That's all I would like to say :)" (Access Hollywood)
Cosby's wife, Camille, finally broke her silence on the widespread drama Monday (December 15).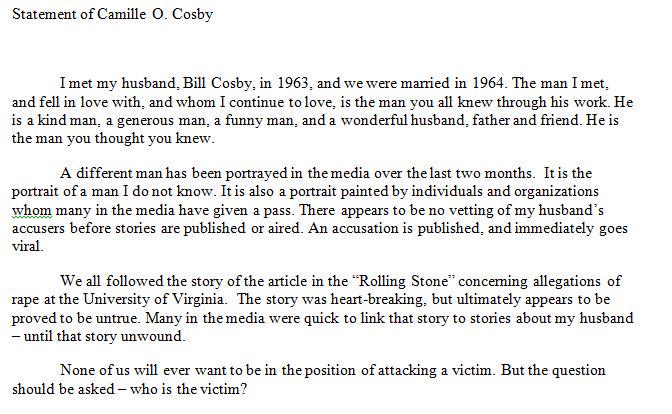 Mr. Cosby singled out the black media and coverage of the sex scandals earlier this month.
Instead, Cosby, 77, said that the African-American media — for which this reporter often writes — should be impartial. "Let me say this. I only expect the black media to uphold the standards of excellence in journalism and when you do that you have to go in with a neutral mind," Cosby said. (Page Six)