Hollywood icon Bill Cosby has reportedly hired private investigators to help clear his name in a publicized sexual assault scandal.
According to reports, Cosby has paid big bucks in an effort to have the alleged victims' claims lose strength.
The comedian, fighting an onslaught of accusations that he sexually assaulted more than two dozen women over many years, is paying six-figure fees to private investigators for information that might discredit his alleged victims. Multiple sources confirmed that Cosby, through his Hollywood attorney Martin Singer, is implementing a scorched-earth strategy in which anything negative in his accusers' pasts is fair game. (New York Post)
Check out what Cosby's family said right here…
Recently, the actor's daughter Evin Cosby issued a statement to defend her dad.
"He is the FATHER you thought you knew. The Cosby Show was my today's tv reality show. Thank you. That's all I would like to say :)" (Access Hollywood)
Cosby's wife, Camille, finally broke her silence on the widespread drama in mid-December.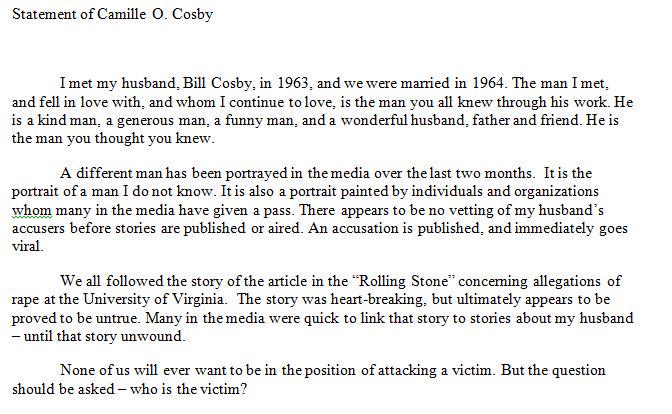 Mr. Cosby singled out the black media and coverage of the sex scandals a few weeks ago.
Instead, Cosby, 77, said that the African-American media — for which this reporter often writes — should be impartial. "Let me say this. I only expect the black media to uphold the standards of excellence in journalism and when you do that you have to go in with a neutral mind," Cosby said. (Page Six)