Rihanna Gets Freaky W/ "Love & Hip Hop" Female, ATL Producer Pulls A Mister Cee, Jay Z's Unauthorized Doc?
Turnt Up Thursday. It's a blazing hot day today, so why not kick things off with Rihanna having a thing for a certain "Love & Hip Hop" star? Speaking of love, is there a certain Atlanta producer pulling a Mister Cee move? He might be 44 and a legend, but there's still a lot to learn about Jay Z, could it be told in a new documentary? All this coming up in SOHH Whatcha Think.
[Editor's Note: The views expressed in this column do not necessarily reflect those of SOHH]
1. Girl Love
Is Rihanna dating one of the members from "Love & Hip Hop" these days? It's not likely but there's some pretty serious buzz about her and Erica Mena being more than just friends. RumorFix is on it:
Erica Mena is shooting down reports that she had an intimate relationship with Rihanna in the past.

After gossip blog MediaTakeOut published a salacious story about the star getting freaking in the back of an SUV, Mena took to her Twitter Wednesday to deny the gossip.

"All you sad miserable Bloggers truly are the Biggest Joke Ever!! To Keep Today's Fools Entertained," the reality star wrote.

Just hours before the Love & Hip Hop star set the record straight, the website wrote the following about Erica and RiRi: "Before Love And Hip Hop Erica Mena Dated That SKRIPPER Cyn . . . She Dated . . . RIHANNA!!" The blog adds, "Here's what we know. Erica told a close female friend that she and Rihanna had an 'Intimate encounter' in the back of Rihanna's SUV."

The insider tells MTO, "Erica says that she and Rihanna were making out and that Rihanna pulled down [Erica's] panties," and what MTO says happens next is too crude for RumorFix to report on. (RumorFix)
This would be a pretty wild hook-up if there were any truth to it. Erica Mena has a thing for getting pretty comfy with females and her and Rihanna could make a cute pair. #SOHHWhatchaThink?
2. The Love Below
Is Jazze Pha pulling a Mister Cee? That might be the case for the Atlanta producer. There's speculation that he has a lover in his life and she happens to be a he? Straight From The A is all over this: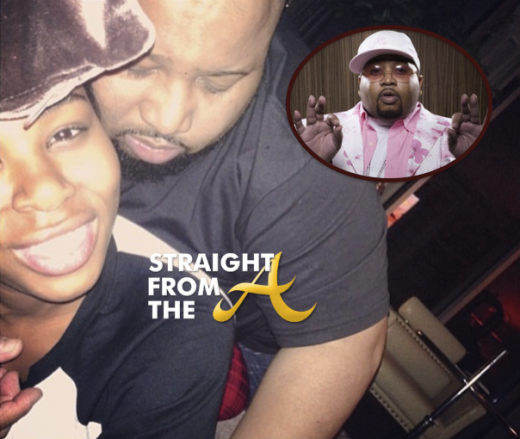 Oh boy! Producer Jazze Pha was recently spotted all boo'd up with a brand new "lady" love.

Jazze's new 'lady', a pre-op transexual who goes by the name of Shayla Stacks, posted the photo above online with the following caption, 'He keeps me warm.'

While some of you may be shocked, rumors of Jazze's alternative lifestyle has swirled around Atlanta for quite some time now.

Hell…and who are we to judge who Jazze chooses to keep warm at night? *shrug*

For the record, Jazze's latest boo-thang, Mr. Shayla Stacks has a sickening man-made body and he ain't afraid to show it off. (Straight From The A)
It's almost 2014 and the idea of same-sex relationships is being accepted by more and more people, but could we be seeing more celebrities coming clean about their real loves? #SOHHWhatchaThink?
3. Allow Him To Re-Introduce Himself
Could Jay Z have more stories to tell? Or could someone have more stories to tell about him? That appears to be the case with a new documentary on the rap mogul's life on deck. Complex has the info:
The story of Jay Z has gone from being one of hip-hop's best narratives to one that captivates anyone with an interest in what making it in America is all about. The idea of a kid from the projects who's grown into one of music's best products and sports one of pop culture's savviest brands is fascinating no matter how you look at it—even if you can't land an interview with the man himself.

The unauthorized documentary A Genius Leaves The Hood: The Unauthorized Story of Jay Z, which is being produced by Moguldom Films, takes on the challenge of understanding Hov through interviews with industry insiders, journalists and friends of his. With commentary from figures like Mister Cee, Jaz-O and Bobbito Garcia, the documentary examines what makes Jay Z so unique. (Complex)

Can you imagine what Jaz-O would have to say in this documentary? Would he be willing to discuss Jay's greatness or is there still some tension there? #SOHHWhatchaThink?

That about wraps it up for today. This is SOHH On The Spot giving you the morning scoop from your favorite gossip sites.

Need to be the one with all that power? Are your devices always running low on juice? Check out the top five reasons you need the ibattz Mojo Vogue BattStation portable charger right now!

Are you a big NFL fan? Show your team loyalty by sending our SOHH Instagram a pic of you with the hashtag #sohhpix and look for your pic on our homepage!